Application screenshots
The application runs on a variety of systems - macOS, Windows, and Linux. It's petty similar on them all.
On macOS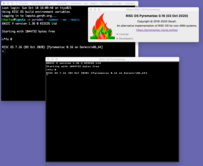 (Full size image)
MacOS 10.14 is the primary development environment for RISC OS Pyromaniac. The screenshot just shows the application runs, together with the terminal which launched the application.
On Windows (via Wine, on macOS)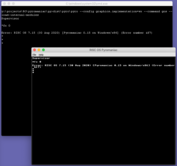 (Full size image)
Although Windows development environments are available for VMs, largely testing is done though CrossOver (a Wine derived product). Although there will always be some edge cases where the VM with real Windows is necessary, it is simpler to run tests under the Wine environment.
This has the interesting result that RISC OS interfaces are implemented in Python, which runs on a Python compiled for Windows, but which uses interfaces implemented for macOS.
On Linux (via VNC to a local docker image, on macOS)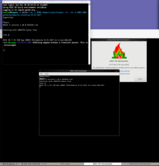 (Full size image)
Running on Linux in desktop in this image is achieved by connecting to a VNC session which is exporting the Linux desktop from a Docker container. The docker container is running the RISC OS Pyromaniac application, but the docker console works just like native.
This is as convoluted as the Windows example, because this is running on macOS. macOS implements Docker by running a Virtual Machine to run the Linux OS underneath. So actually we have RISC OS implemented in Python, executing in a container on Linux, which has been virtualised on a macOS machine to make it look like a native command line tool.
Development media
During the course of development, I produced a number of examples of the tool in use. Some of these are provided here. They are at varying stages of the development of Pyromaniac, although the version number and release date appear on some which may help to identify when they are from.
Building the RISC OS Kernel on macOS
Running BASIC on macOS
Running BASIC with modules
ANSIText coloured output
Freeway works
Snake in a console window
OS_GBPB through sed
TWIN called from BASIC
CLI aliases
Tracing execution
Lots of modules
Early example of JFPatch
Network connections
RAMFS and low-vector watches
Faking Git
ErrorCancel module
CObey crash
Drawfile rendering
BootMenu
Wimp experiment
MacOS application
Font_Paint, showing UTF-8
Font_Paint, with macOS fonts
Rendering with the classic Draw module
Running on Windows
Font rendering with Pyromaniac
Font rendering with classic FontManager
JPEG_PlotTransformed
Classic Wimp with Pyromaniac fonts
Classic Hourglass
BBC Game Explode
First tune through WaveSynth